Degreasing
Whale bones are extremely porous. Up close, some areas look like giant sponges. The whale bones are filled with oil in living animals, which helps with buoyancy. Over the 20 years the whale was in the ground, this oil had gone rancid and smelled terrible. The oil would need to be removed before the whale could be put on public display. The removal of this oil was the degreasing phase of the project.

Mike deRoos, the Blue Whale Project's Master Articulator, and his team removed the whale bones from the cargo container that brought them across the country. The bones were moved to large, specially-designed degreasing tanks built in a space generously donated by Ellice Recycle Ltd. on Victoria's inner harbour. The team sprayed the bones with degreasing enzyme, a biological agent that helped to break down the oil molecules. The bones were then immersed in 2,500 gallons of liquid containing a type of bacteria that could further digest the oil. This procedure removed the majority of the whale oil from the bones over a period of several months.

In November 2008 team of UBC microbiologists, joined by a camera crew from the Discovery Channel, visited the degreasing site to asses the state of the solution in which the whale bones were soaking. The UBC contingent consisted of Gary Lesnicki, from the Michael Smith Labs, and Doug Kilburn and Tony Warren, retired UBC professors. As part of their recommendations, the temperature of the solution was raised, and the rate of extraction of the oil increased dramatically. Later in the next year, some of the larger blue whale bones underwent a vapour degreasing process.

This procedure extracted remaining traces of oil from deep within the bones by exposing them to a vaporized degreasing enzyme. The jawbone was so big, it had to have a custom tank built for it.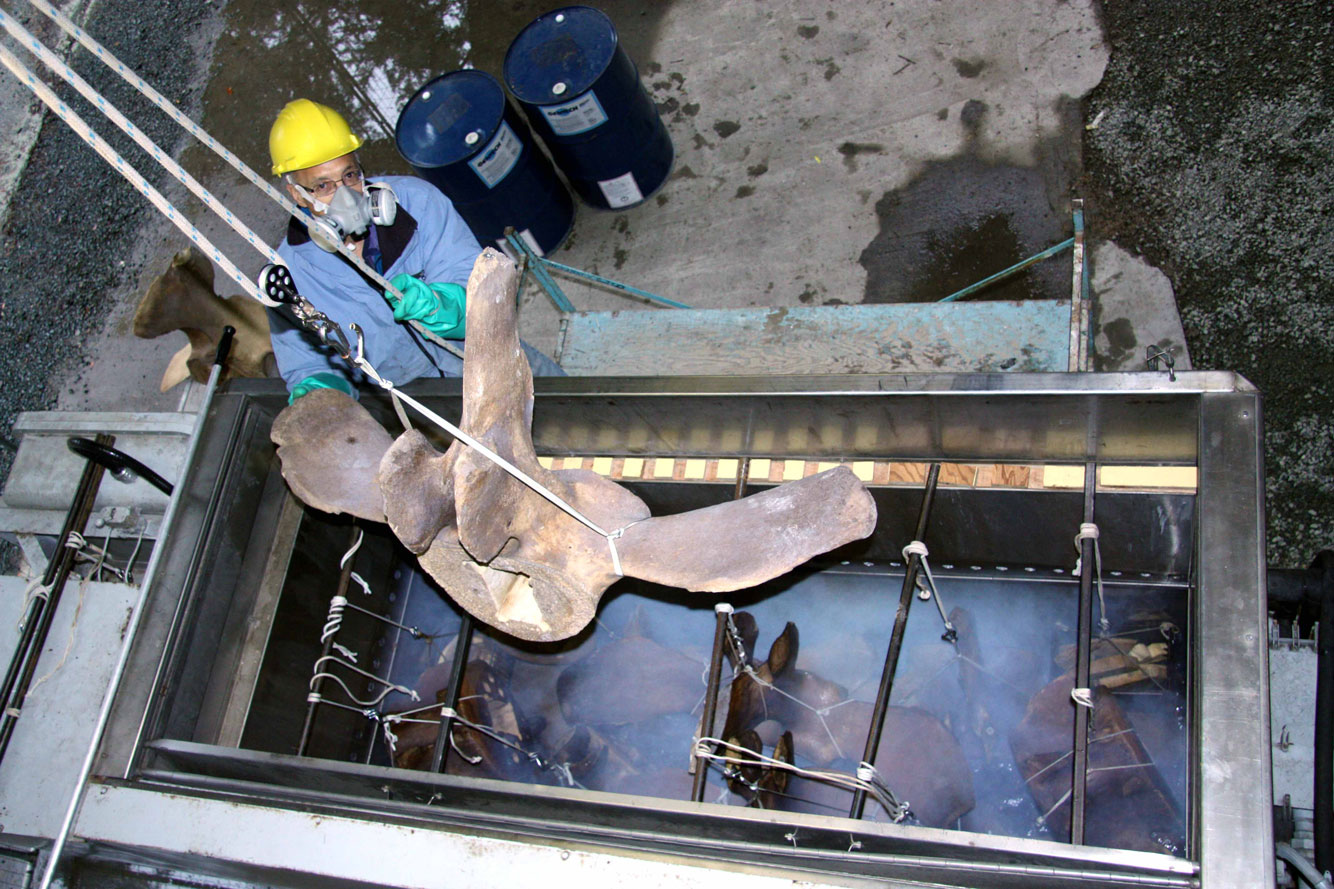 July 2008 — November 2009